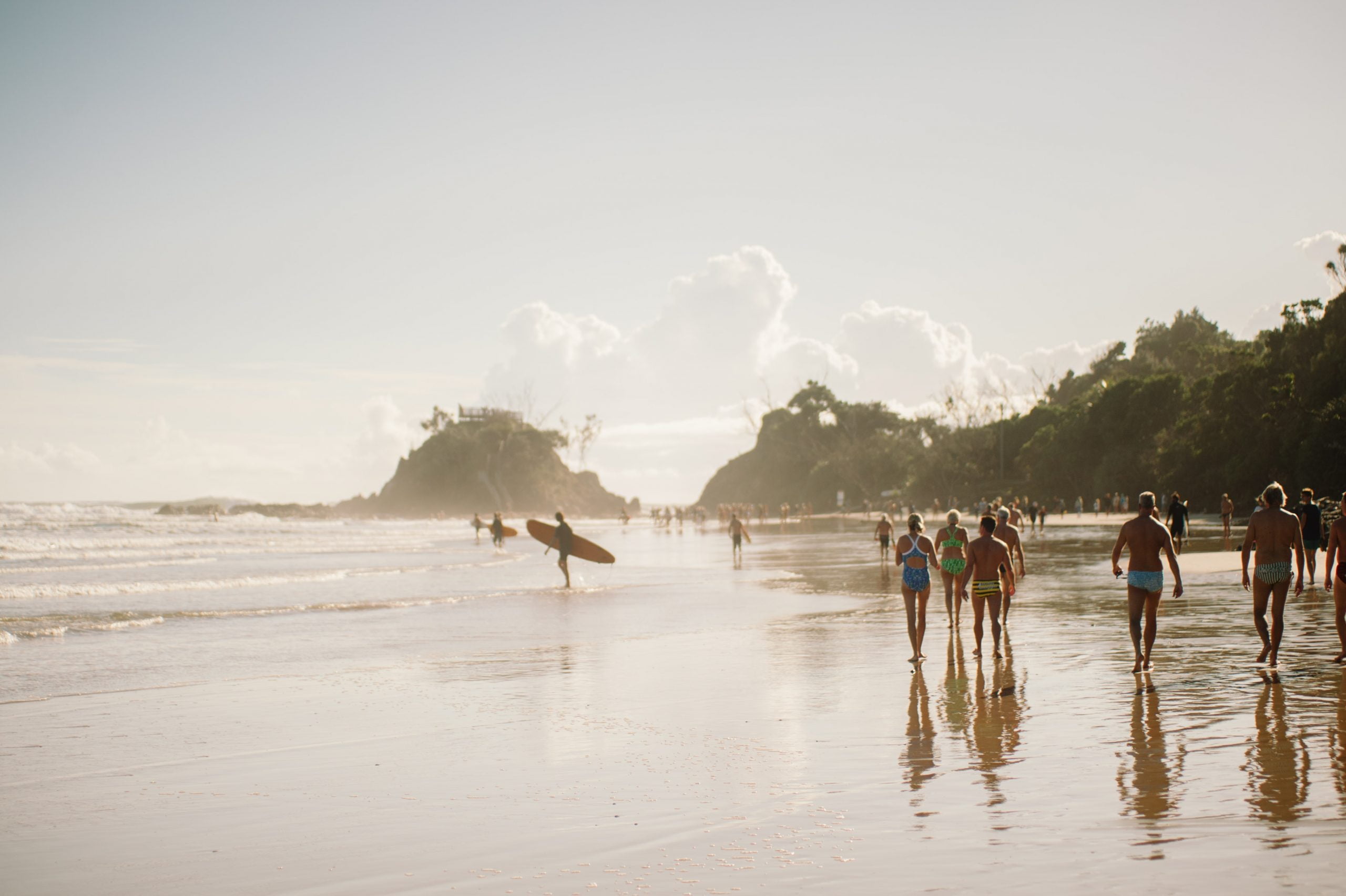 03 Feb

Everything You Need To Know About Surfing in Byron Bay

With their tranquil, peeling right-handers, there is no just one iconic surf spot in Byron Bay. The Australian coastal town appeals to surfers all over the globe for its amazing beaches and surfing activities. The consistency and diversity make this Southeastern town just the right for surfing.

With plenty of beaches on the Cape Byron peninsula, it is rare that you can't get the perfect beach spot to surf. The spectacular seashore, unparallel laid-back vibe, and warm subtropical water teemed with marine life add to its unique appeal.

Still unsure why surfing in Byron Bay lives up to all the hype? Continue reading to find out more about this Aussie epicenter of surfing.
Where to Go- The Best Beaches in Byron Bay
The Pass
This long, famous, and easy right-hander beach offers much more than the surfing experience. Just a two-minute drive from Byron Bay, "The Pass" is undoubtedly a fun wave and has small swells of different levels, making it a fantastic location for surfers. Its lookout rock is ideal for a fantastic view of the waves and fish migration.
The Wreck
The rudder shipwreck emerging out of waters makes "the Wreck" an iconic beach in Byron Bay. Further down the narrow capeline, the wedged-up wave seems hollow but is a lot of fun. A few beach breaks are between the Pass and Wreck, but it is nothing that would stop from snorkeling or surfing.
Wategos
Looking for some fantastic fun right-handers, head straight to Wategos? The sand-bottomed is just perfect for all levels. The outer bank of the beach starts to break when big waves swell rolls.
Where to Learn- Byron Bay's Surf Schools
Don't know how to surf? Well, you can get learning lessons at Byron surf schools. Note that there are only three licensed schools that teach surfing in Byron Bay. The other schools will have to take you to spots outside of the Bay, which means you're missing out on some Byron beauty (& the fun waves this area has to offer).
Black Dog for example is our fully licensed schools to give surfing lessons. The school teaches surfing and educate about the currents, waves, and rips in their 3.5-hour lessons.
Where to Renting Surfboards at Byron Bay
You will want to hire or rent a surfboard if you're not traveling with a personal one. Fortunately, this part of Australia is a surfing hotbed.
That means you will find dozens of places where you can rent a surfboard. Black dog Surf School, in this regard, is the best place to hire a surfboard that suits your level and style. The school is relatively closer to Byron's Main Beach.
What Else- Post-Surf Activities
Along with surfing, there is an array of other things you can see, do, enjoy, and make memories of within Byron Bay. From whale watching, dolphin kayaking to lunching and lighthouse walking, there is no way this energy center will disappoint you.
The bustling city has a range of eateries, such as Main St Burgers, with burgers piled high with unique flavors on the menu to satiate your cravings. The spot excels at blissfully blending delicious burgers and brews.
If burgers aren't really your choice, how about enjoying your day at a working farm and trying their organic menu at "The Farm"? This one – the of-its-own-kind place will make eating more pleasurable.
Overeaten?
Well, the Lighthouse walk can help. The Byron Shire's iconic landmark has a 4km track, offering visitors an ideal location to enjoy their day out. Explore the picturesque natural beauty of Cape Byron by following Lighthouse walking track.
Summing Up
All in all, Byron Bay encapsulates and sums up pretty much everything excellent about Aussie surfing culture. As people are passionate about surfing in this part of the country, you will find the best beaches, schools, and renting places for surfing and much more beyond that.
Thus, Byron Bay has something that didn't diminish at all over the decades, which gives you a memorable surfing experience.